Planning a retirement party? Among other party essentials, you'll need a guest book to capture signatures and well-wishes, and a gift for the retiree. Luckily, we can help with both! Start with the Tessera Guest Book then elevate it to create a custom retirement keepsake for the guest of honor in just 4 simple steps.
The Guest Book
A modern guest book that you can customize inside and out, the Tessera Guest Book has 32 guest pages designed to capture all of the guest details you want. Choose your pages based on your event size and style. We have 6 guest page layouts to choose from: Lines, Boxes, Guest Notes (two styles), Stories & Notes, or Well Wishes & Advice. Additional pages for event details, gifts, and blank pages for photos & keepsakes make this book everything you need to document a memorable event.
Choose Your Cover & Personalization Options
Choose one of our premium cotton book cloth, leather, silk or handmade paper covers and then customize it by adding a ribbon and/or personalized plaque.
We recommend a leather cover when creating a retirement guest book for a sophisticated feel. Stop there and enjoy the book as is, or dress it up with a flat lay ribbon or bow. Plaques can be paired with a ribbon or be affixed to the guest book without one.
Customize your plaque any way you choose. A monogram, name, or simply the word "Guests" are all popular options. Plaques come in a variety of color and font choices.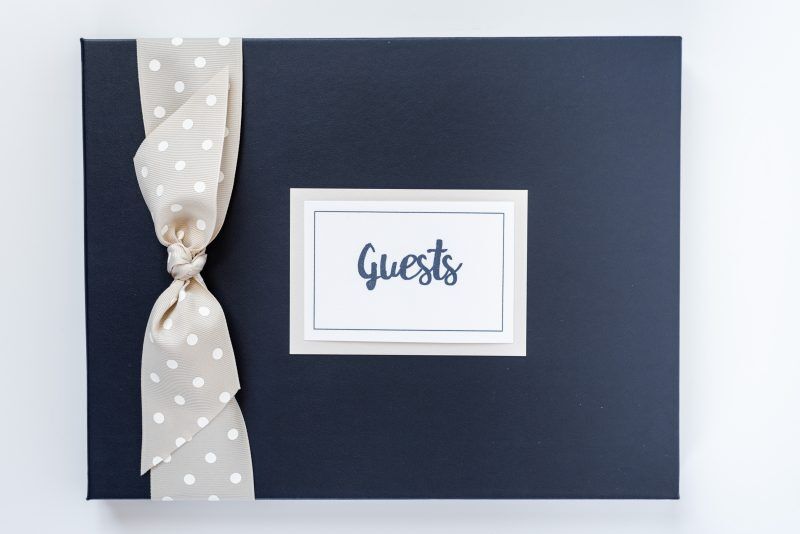 Use Additional Insert Pages to Create a Retirement Keepsake
With Tessera, it's easy to create a custom keepsake using the flexibility of our books. You'll need:
Any Single Page – A Letter to You
Stories & Notes Guest Pages
A printer
Tape or glue
Start by adding company details. These details can be printed out and affixed to the back of the title page in the Guest Book or to one of the blank pages included in your book.
Next, add A Letter to You Page to the Guest Book after company details. You can encourage the president or manager to handwrite their letter onto the page itself, or simply print out their typed letter and tape or glue it to the prompted page.
Then, add Stories & Notes Guest Pages for another personal touch. The 12 pages in this Additional Insert Page pack are designed for guests to write their anecdotes or notes of congratulations to the retiree. They're a great addition to the more traditional lined or boxed pages which only allow for signatures and addresses.
Get The Most Out of Your Retirement Celebration Guest Book
Use the book's screw post binding to your advantage. Take out the guest pages and place them on tables to encourage more signatures. This will prevent guests from having to wait in a line to sign in. If using the Stories & Notes pages, you can use a similar tactic or pass them out to guests as a part of the event. (Want more tips on getting the most out of your Tessera Guest Book? Check out our blog post!)
After the party, add the filled out pages back to the Guest Book and toss any blank pages. The guest of honor will be left with a book that looks and feels complete.
Looking for more ways to add personalization? Check out all of our Additional Insert Pages!