At Tessera, we believe memory books are time capsules. We use them to tell our story and keep our history. We take time to document our family's moments from little to big. We capture the well-wishes and signatures of others during our milestones. We invest our time in writing the prompts so that someday when our memories start to slip, we can look back on the mosaic of moments that made up our lives. But when you're just dipping your toes into the world of memory keeping, where do you start? How do you create your perfect memory book? Read on to find out!
What do You Want to Capture?
Maybe you're getting married and have been on the hunt for a flexible guest book. Maybe you're expecting and looking to capture your baby's first years. Or, maybe you're looking to tell your life story. Our Memory Books have been designed with simple prompts so you can easily documents moments across the board:
Baby
Wedding
Growing Up
Holiday & Family
Guest
All Occasions
The prompts in our books serve as a guide to help you keep track of your memories. Some books include more prompts, such as the Baby Memory or School Memory Books. Others, like the Birthday Memories and Favorite Memories, include less. Whichever you choose, each Memory Book is printed on one side, so you have the ability to add or remove pages without losing any detail. This also provides more space for photos and keepsakes – something other prompted books and journals tend to lack!
How do You Want it to Look?
Once you've chosen your Memory or Guest Book, the fun really begins! We have a wide selection of cover choices so no matter what your taste or style is, you'll find a cover to match. Choose either a premium cotton cloth, leather, or handmade paper cover. While cloth and leather are smooth to the touch, handmade paper covers have a natural and often uneven texture.
Dress It up with Personalization
Create a unique book with our ribbon and plaque accent options. Ribbons come in 4 choices – flat lay, bow, flat lay with a plaque, or bow with a plaque. Plaques can be customized for any event or occasion with a title and a date, a monogram, or a name, and they can be styled alone if you don't like the look of a ribbon. Although our covers are beautiful without customization, we love the look and feel of a personalized Memory Book!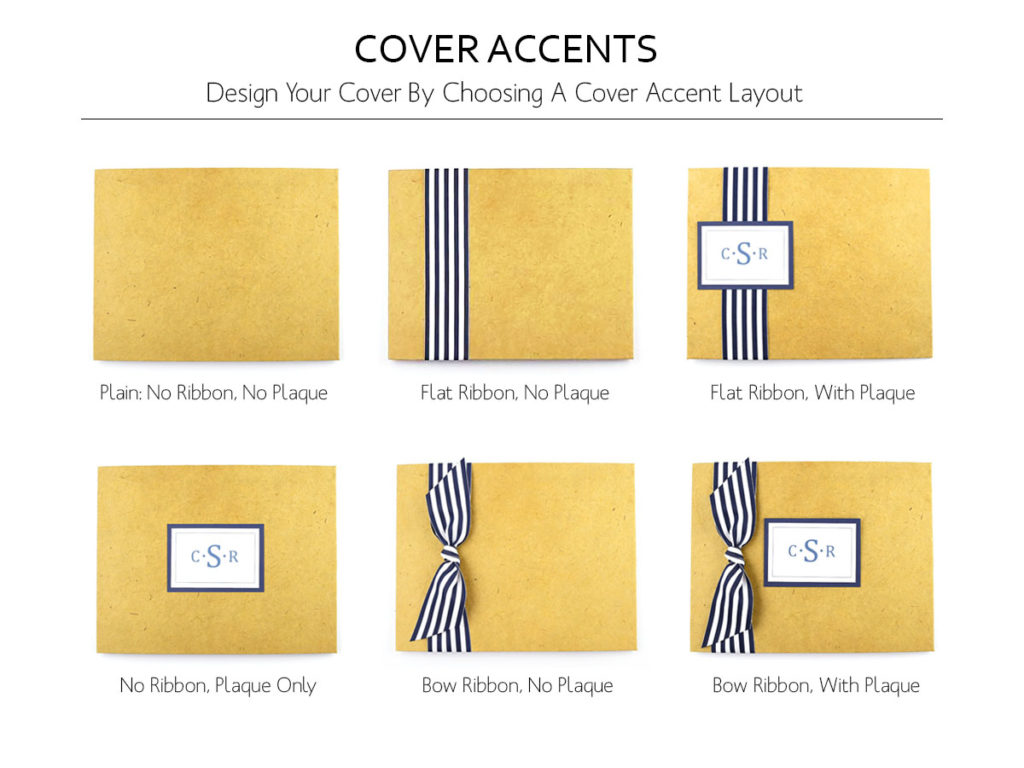 Customize Your Book to Fit Your Story
Any baby book can capture the details of baby's first bath, what their room looked like, or when they took their first steps. But do they tell the story of your adoption? Your IVF experience? Do they include details of your baby's grandparents, or their first holiday?
What makes us truly unique is the ability to include these details and more with our Additional Insert Pages. You can add these pages to your Tessera Memory Book so you have a book that perfectly reflects you and your family.
Whether you need more guest pages for an event, you want to add more photos, or you want to add more prompts to capture your memories, Additional Insert Pages have you covered.
Fill Your Book and Share!
We love to see the unique stories, experiences, and milestones you capture in your Memory Books. Share with us by tagging @TesseraMemoryBooks on Facebook and Instagram!
Still not sure where to start or how to customize a book to fit your needs? We can help! Send us a message at customerservice@tesserapublishing.com and we'll be happy to help you create your perfect Memory Book.
Or, find more inspiration on our blog.
You may love: 7 Tips for Filling Out your Baby Memory Book or How to Get the Most Out of Your Tessera Guest Book