From the special traditions they share, to the memories they create together, there are few things more heartwarming than a grandparent's love for their grandchild.
What better way to capture it than by including them in your baby's Memory Book?
With the help of Grandma and Grandpa and our Additional Insert Pages, you can create an even more cherished family heirloom for your child. Read on to find out how!
Use these prompted pages to include more details about grandparents and great grandparents on both sides of the family. Pages include information about where they were born, childhood highlights, family traditions, and more. My Grandparents Pages are a great way to add a bit of unique family history to your Baby Memory Book.
Include a handwritten letter from Grandma and Grandpa by using A Letter to You Insert Pages. These pages can be filled out and added to your baby book at any time, adding advice or sweet sentiments that will undoubtedly become more appreciated as the years pass.
These Insert Pages are the perfect way to include a memory or cherished time that Grandma and Grandpa had with your little one. Whether they're capturing memories of holidays spent together, one on one outings, or even a first night spent at Grandma's house, looking back on these pages over the years will be special for both you and your child.
Favorite Memories Pages have lines to record the details and space for a 4×6 photo or keepsake. Have the grandparents fill out a page at a time, or keep a stack of this Insert Pack at their house. You can add the completed pages back to your baby's Memory Book at a later date.
A Tessera Tip
Need help adding Additional Pages to your Tessera Memory Book? Simply unscrew the posts in the back of their book and place the pages where you want them. You can also follow our guide.
Don't Forget the Big Kids!
Older siblings or children beyond the baby book years can still create a special keepsake with the help of Grandma and Grandpa using our Kids Journals!
Grandma, Tell Me About You! and Grandpa, Tell Me About You! journals are the perfect afternoon-with-grandparents activity. Simple prompts and fill in the blanks make it easy for kids to learn all there is to know about some of their favorite people on earth. Even better than the keepsake they create is the precious time spent together!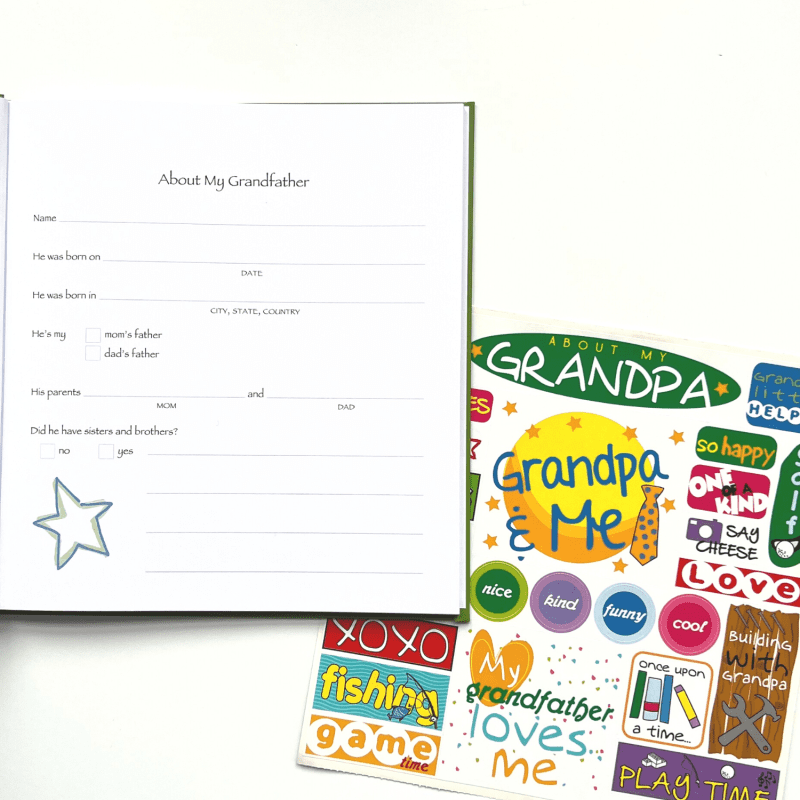 Make it a Gift
Our I Love You Grandma and I Love You Grandpa Journals were created as an activity for kids and a keepsake gift for grandparents. These journals give a child a sweet and simple way to tell their grandparents how much they mean to them.
Prompts such as Things We Do Together and Favorite Times & Memories encourage kids to think about the special times they've shared with Grandma and Grandpa.
Grandparents are sure to cherish the finished journal received for a birthday, a holiday, or just because!
The Details
Tessera Kids Journals come in 8 different cover options – blue, red, pink, purple, green, marigold, stripes and kraft. Each journal has 18 pages printed on one side, leaving plenty of blank space for photos, drawings, or keepsakes. They make excellent writing practice, but can easily be completed with the help of an adult. Each journal comes with a themed sticker sheet to decorate the cover or pages.
Share with Us!
We'd love to see how you've included grandparents in your memory keeping. Tag us on Facebook or Instagram using #TesseraMemoryBooks to share!