Congratulations are in order! Whether you're the bride-to-be or you're celebrating the marriage of a friend or family member, we've compiled a list of our favorite wedding gifts.
Pass along our Wedding Gift Guide for a nudge in the right direction or take some of the pressure off of yourself to choose the perfect gift. All of our Customizable Memory Books come ready to gift in a keepsake box, so no matter what you choose, we have you covered!
Create a time capsule of special messages and moments with Tessera's Bridal Shower Keepsake.
There's room for 30 guests to write their well wishes and advice to the couple, additional pages to capture the shower details and gifts, and blank pages for photos and mementos. It's a personalized keepsake, gorgeous guest book, and perfect wedding shower gift all-in-one!
Need more or less guest pages? Easily add or remove pages with the adjustable screw post binding.
A modern book you can customize inside and out, this Guest Book is the perfect addition to any party or event! It has 32 guest pages with six different layouts to choose from: Lines, Boxes, Guest Notes (2 styles), Stories & Notes, or Well Wishes & Advice. Additional pages for event details, gifts, and blank pages for photos & keepsakes make this book everything you need.
Take it a step further and customize the Guest Book by adding the Wedding Details Pages. Prompts about how the couple met, the ceremony, and more transform this book into an even sweeter wedding keepsake.
Additional guest pages can be added, or pages can be removed so your Guest Book will look and feel complete.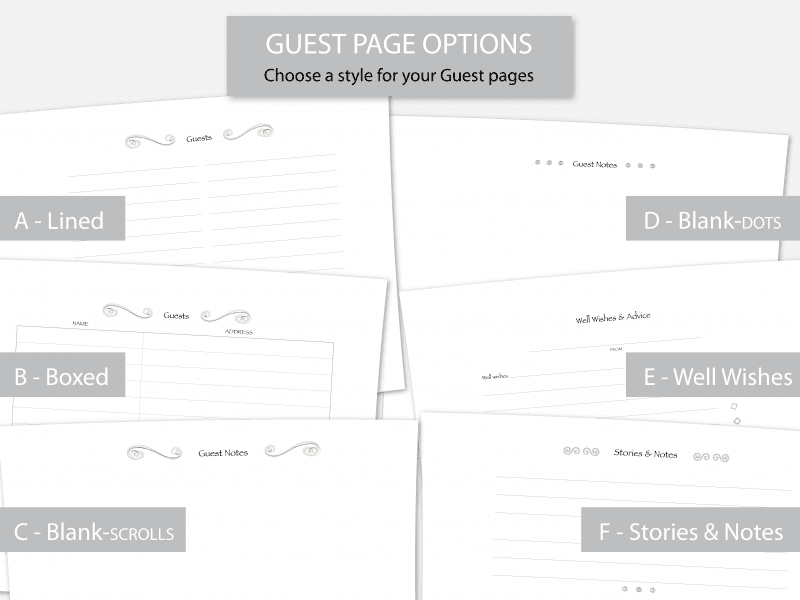 Our Love Story provides a simple and elegant way to capture 10 years of memories with your loved one. Each year includes a page to write a note or love letter to your partner, a page to record last year's memories & highlights, and a blank page for any photos or mementos you want to include.
Each page is printed one side, so pages can be rearranged, or added to without losing any detail. Our Love Story is the perfect way for a couple to create a time capsule of the best love story ever – theirs!
A thoughtful wedding gift for newlyweds, the Favorite Memories Keepsake can be completed in real-time, or all at once as a time capsule of their good memories over the years.
The 42 pages of this keepsake make it easy to document the details of holiday gatherings, important events, and vacations. Each page has the title Favorite Memories, lines to record the details, and space for a 4×6 photo or memento.
The day the couple moved in together, wedding details, or their honeymoon make a great starting point for this book.
Looking for flexibility in your wedding gift?
Use our Blank Book and Photo Accessories to create a photo album of the couple getting married, or give it as a gift waiting to be filled out. The couple can use it as a wedding or honeymoon photo album or scrapbook. (See our post on Creating a Wedding Memory Book After the Fact!)
Each blank page provides plenty of room for 2 standard-sized photos, space for writing, and memorabilia.
Our I'm In A Wedding and I'm Going To A Wedding Kids Journals are great activities for a wedding's young attendants and guests.
With prompts to capture the details of the day, kids and parents will love this activity turned keepsake. These Journals are a sweet gift from the couple getting married, or for parents looking for an activity for the kids during cocktail hour or the reception.
Pages are printed on one side so there's plenty of room to draw and be creative! A themed sticker sheet adds to the fun.
More Ideas & Inspiration