Another summer has come and gone and the school year is upon us! Whether you're sending your little one off for the first time or you're a back-to-school pro, you're likely just as excited as they are to make new memories. To help you capture all of the milestones, activities, and excitement of the school years, we've created our Grade School, Middle School, and High School Memory Books. Designed to be compiled in real-time or organized and compiled after they've finished school and moved on, these three books are a simple and fun way to create a time capsule of childhood memories.
Here's how to get started:
Pick Your School Memory Book
Start with a Grade School, Middle School, or High School Memory Book. Each book includes 42 archival quality pages printed on just one side for maximum flexibility. Simple prompts make it easy to keep a record of classmates, teachers, activities, school report cards, accomplishments and more!
Capture 6 years of grade school memories and 3 years of middle school memories with these special Memory Books. Additional pages include a growth chart, religious education, their birthday celebration, details of their childhood home, and more! Take a peek inside the Grade School and Middle School Memory Books.

Is there a time more transformative than the teen years in a kid's life? Between new friends, sports, clubs, academics, school dances, and driving for the first time, their high school years are packed with moments to remember. Keep these moments close with Tessera's High School Memory Book! Even better than a yearbook, it's a great way to connect with your teen. Plus it's a personalized way to capture all of the important details and memories of high school! Take a peek inside.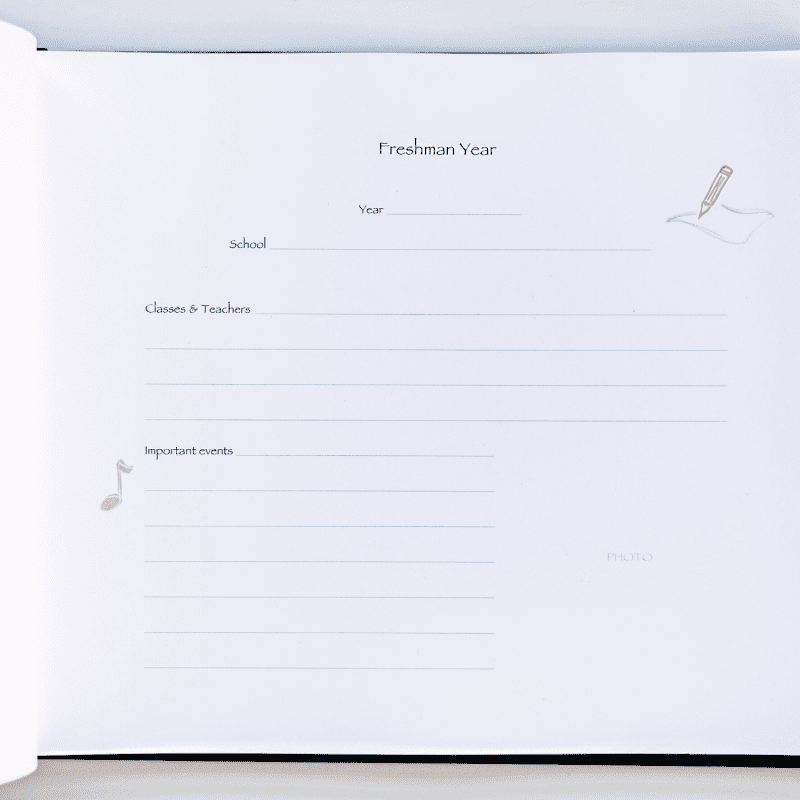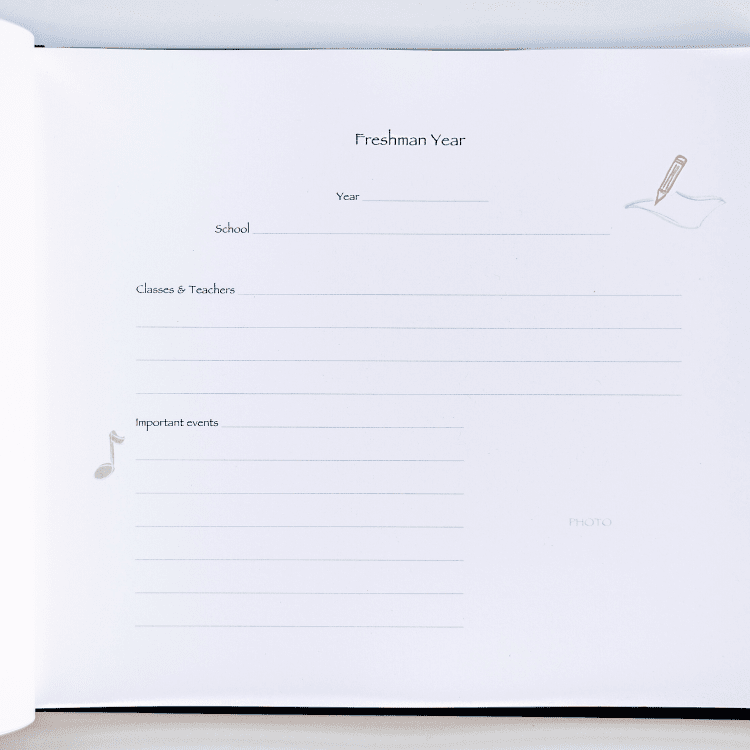 Make It Your Own
Choose one of our premium cotton book cloth, leather, silk or handmade paper covers, then personalize it with a ribbon and/or plaque. All customization combinations look great for a childhood memory book but you can also create a book that coordinates to your school colors and shows your school spirit! We made sure to have the most popular school colors for all customizable components.
Some of our favorite school color combinations include:
Cardinal leather cover, white grosgrain ribbon, and opal plaque
Marine leather cover, white grosgrain or navy stripe grosgrain ribbon, and opal or navy plaque
Green cloth cover, white grosgrain or green/blue plaid ribbon, and opal or navy plaque
Purple cloth cover, white grosgrain or yellow grosgrain ribbon, and opal or yellow plaque
Plaques come in a variety of font choices and can include a name, a title such as "Grade School Memories," or a monogram.
Add Optional Additional Insert Pages
Each book can be expanded to include more details or more school years.
For example, you can add More Grade School Pages to expand your Grade School Memory Book by two years. Start the Grade School Memory Book when your child starts preschool, and capture the memories through 6th grade.
We also love Memories, Highlights, & Activities Pages for adding a short summary of vacations, sporting events, plays, and more.
Check out our full list of Additional Insert Pages.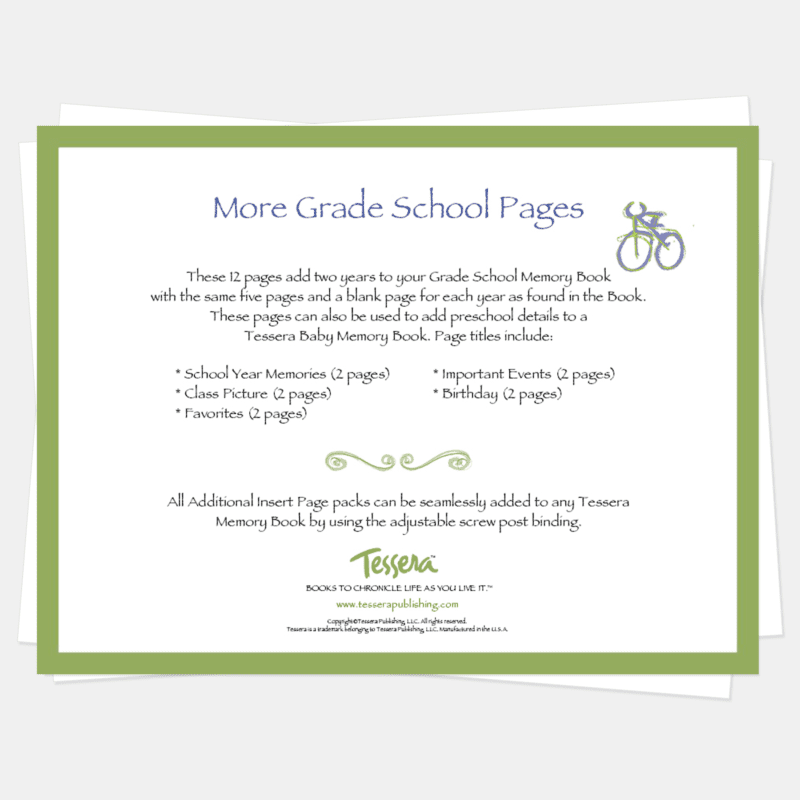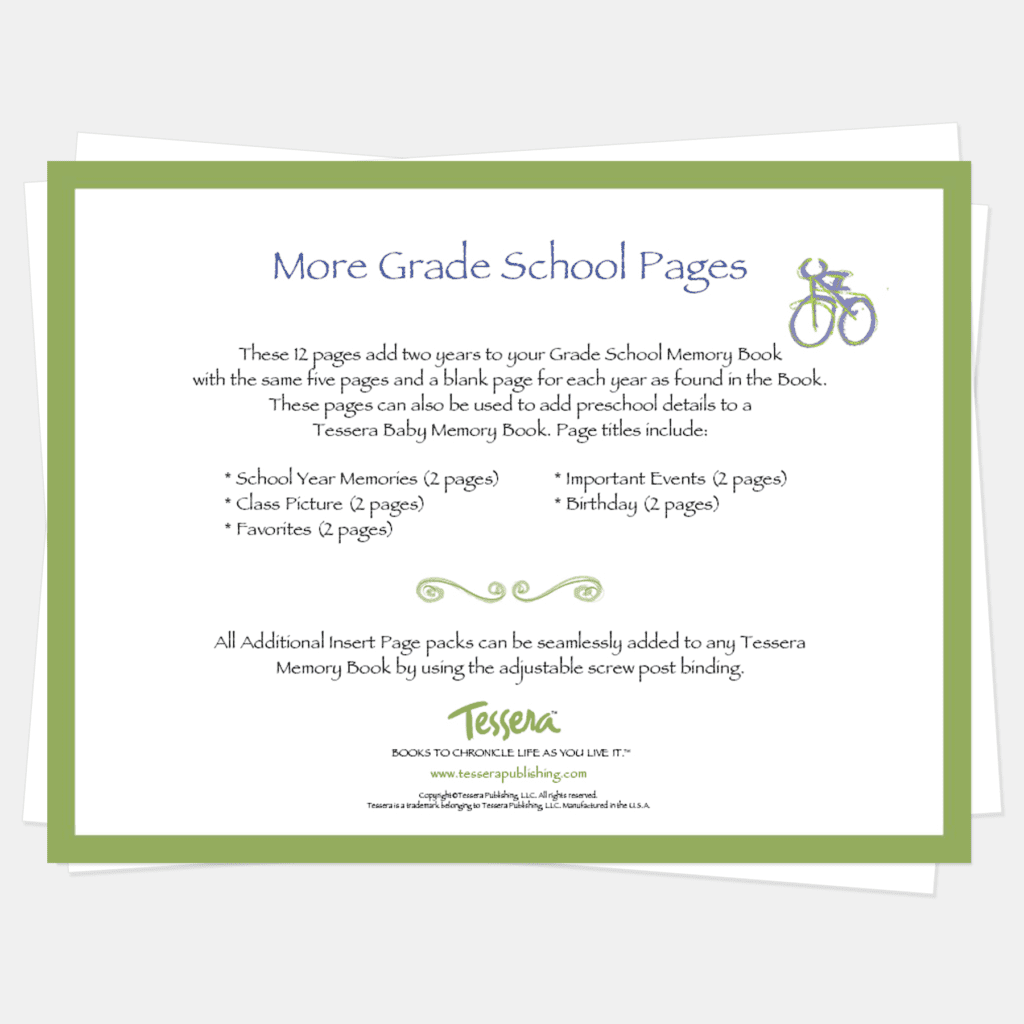 Fill Your School Memory Book Whenever You Choose
The flexibility of our books makes it easy to keep track of the memories. Fill out several pages at a time during the school year, or create your Memory Book after the years have passed. Save the mementos you want to add to your book such as photos, report cards, programs, and more. These can be kept safe in your book's green keepsake box and used to jog your memory when it's time to fill out your keepsake.
Ready to get started? Find our Memory Books here.
For more tips on how to fill out your School Memory Book, check out our blog post Documenting the School Years and follow us on social media! Tag @tesseramemorybooks on Instagram to share your childhood memory book.