Whether you're going from 1 child to 2, or adding in a 3rd or 4th, we know welcoming a new baby to the family is a big and exciting transition! There's the logistical side of growing your family (is our car big enough, do we have enough bedrooms?), and then there's the emotional side (will my children be excited to welcome a new sibling, will they adjust to the divided attention?). While we can't help you with the decision to buy a minivan, we can give advice on how to make the transition as smooth as possible. Read on for tips on how to prepare your older children for their new baby brother or sister!
Books
What better way to announce the impending arrival of a new sibling than with a new book?! When my husband and I found out we were expecting baby #2, we bought our toddler I'm a Big Brother by Caroline Jayne Church. With pages that talk about bringing baby a diaper, quietly playing with toys while baby sleeps, and always helping mom with what baby needs, our toddler was ready to take on his new role. Although our oldest was only 18 months old when his new baby brother joined the family, we were pleasantly surprised to see how much of a helper he became!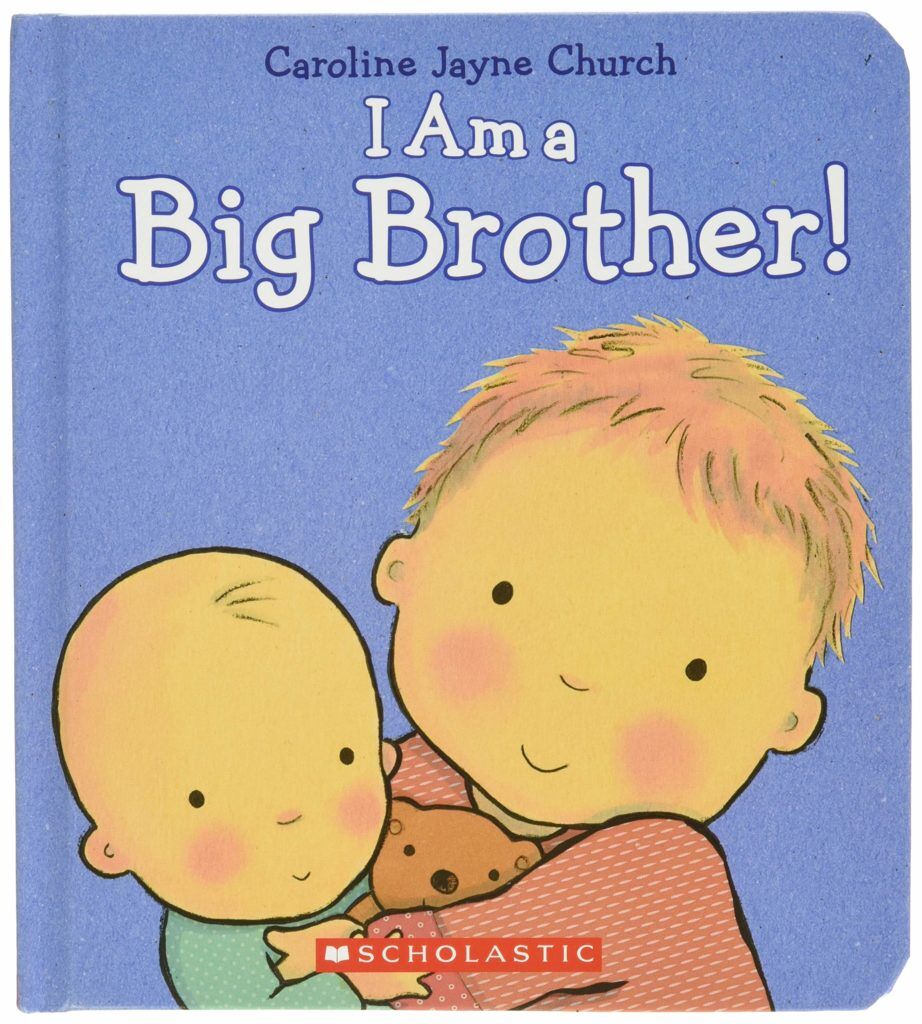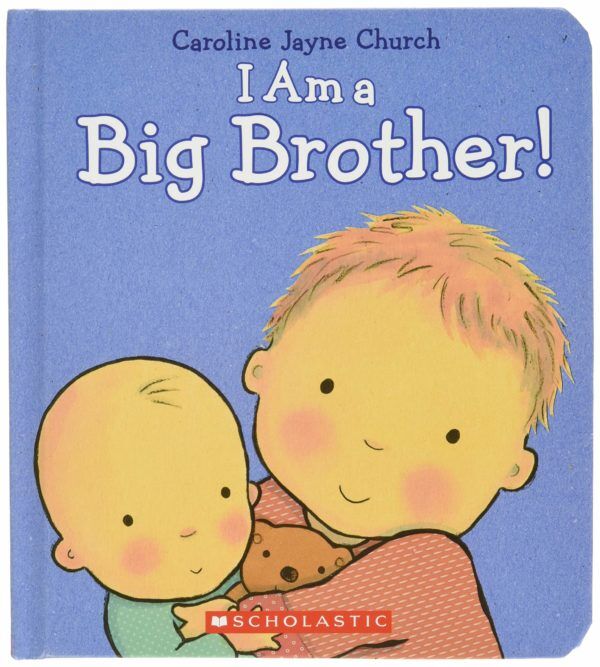 Fast forward a couple of years, and the book continues to be a hit while we wait for the arrival of baby #3. Our almost-2-year old brings us this book nightly and we suspect he will be just as much of a helper for his new baby brother as his older brother was for him!
Activities
Great for kids ages 3 and up, our I'm Going to Be a Big Brother and I'm Going to Be a Big Sister Kids Journals are a sweet activity to get your child excited about their new role!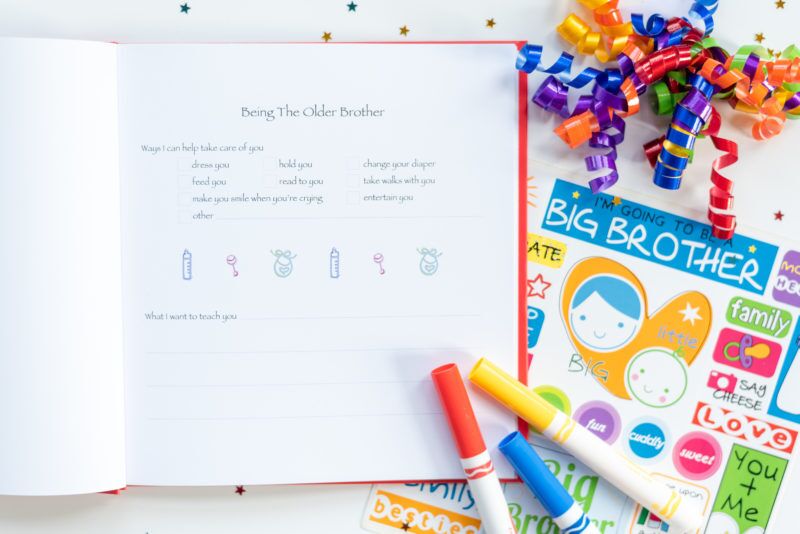 The journal can be started any time before the baby is born as a fun weekend activity, or while waiting at the hospital or birthing center. With prompts all about the big brother or sister's thoughts on becoming a big sibling, how they planned for the new baby, and when they finally met, it's a great way for a child to create their own keepsake.
For younger children, a parent, grandparent, or caregiver can act as secretary and record the child's answers, while older children can complete independently. You'll love looking back on the adorable answers for years to come!
Another great activity for your little ones are our A New "Sister" or "Brother" Single Page! This page is an Additional Insert that can be added to your older child's Tessera Baby Memory Book, or your newest little one's book. It contains prompts for detailing how the big sibling found out, how they help with the new baby, and more. Didn't get around to creating a baby book for an older child? It's not too late! Read our blog post for tips.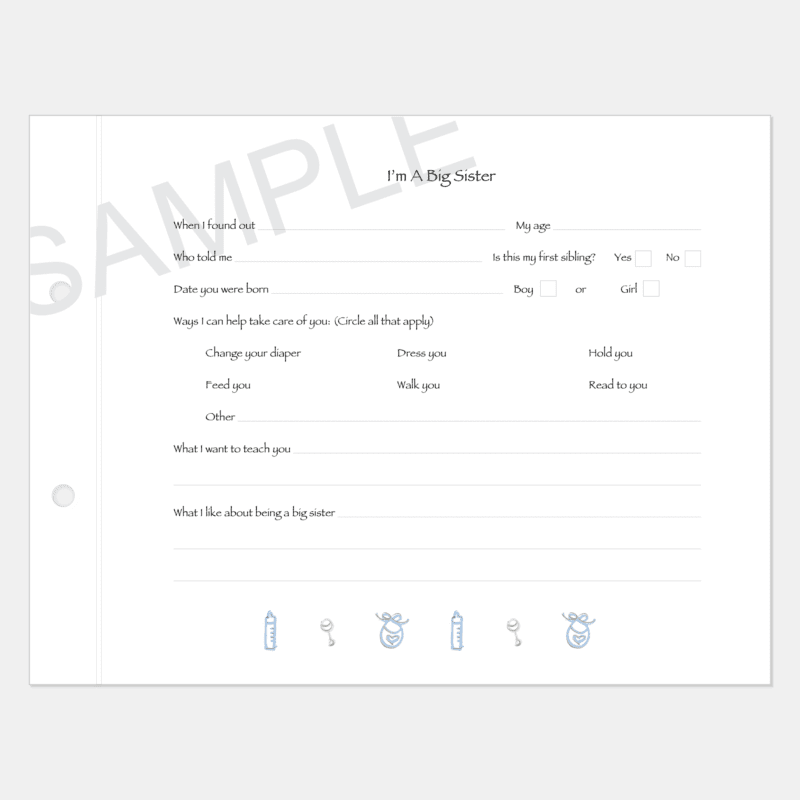 Gifts
Although we think becoming a big brother or sister is the biggest gift of all, your little one might not view things the same way. To ease the transition for our impending arrival, we purchased new toys for our boys that we're planning on having the baby "give" to his older brothers. Because who isn't excited to welcome a new person to the family when they bring you presents?! BabyCenter says although not necessary, gifts are a "nice way to make older kids feel loved and included" when the attention shifts. We love gifts centered on creativity and learning, but anything that will keep your child entertained during those early days in survival mode is best!
Patience
As with any change in life, the most important thing to remember is that this will be an adjustment period for you and your oldest child. But, this too shall pass! Be patient as you all fall into your new roles, and enjoy the chaos of it all. Those first few weeks are the hardest, but you'll find your rhythm, as will your children. I've found that the key to getting through those early days is to stick with your oldest child's/children's routine. For times you need to keep big siblings entertained during the newborn stage (such as during feedings), use our Kids Journals as fun activities, rent a new movie, or plan for a sitter or friend to take them to the park. Have patience with the transition, and know that you've got this!